MATERIA – new kitchen in wood by Martini Interiors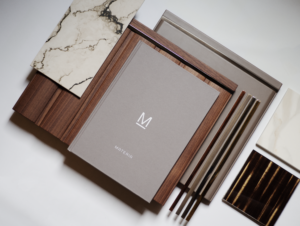 Continuous research to renovate spaces and reconsider ergonomics, while never forgetting elegance and functionality. The intersection of materials and finishes gives strong expressive energy to the Fusion – kitchen in wood. The vertical pace of moldings makes the surface of Onda doors in Canaletto Eco S-Matte vibrate, enhanced by the contrast with the flat surfaces of the lacquered Plana doors and by the lightness of the glass wall units with lacquered aluminum frame.
The double folding opening of the large Onda doors in Canaletto Eco S-Matte reveals a cooking and washing area perfectly integrated into the composition of the kitchen in wood, embellished by countertop and backsplash in Oxford Grey marble and the wall units in Acciaio Spazzolato glass, a distinctive element of the refined balance between functionality and aesthetics.
The strength and the warmth of Canaletto Eco S-Matte finish of the Onda door dialogues with the refined and soft surface of Carbonio Matte lacquered metallic finish of the base units with Plana door. An internal-external play of light enhances lightness and transparency of the wall units with Carbonio Matte laquered metal frame and Ecosat Screen glass.
A pocket door system gives access to the oven and to the trays storage unit. A great way to include functional elements into the composition without creating formal interruptions.
The island, scenic fulcrum of the composition of this kitchen in wood. A refined material balance of Oxford Grey marble and Canaletto Eco S-Matte lacquer of the Plana door featuring steel inserts in Nichel Nero Lucido is accented by the LED lighting, which eliminates any sign of heaviness.
The large corner area with fridge and wine cellars, marked by the vertical pace of soft waves of the Onda door in Canaletto Eco S-Matte, is interrupted by an open compartment with lightened glass shelves framed in wood. The backsplash in Fili Bronzo Argento glass vibrates and exalts the objects on display with a soft light.
Niches, open elements with metal frame and glass backs give life to the wall surface. The fireplace in Oxford Grey marble created with the same molding of the Onda door becomes an element of formal and material continuity, bringing the room a touch of elegance. The Morgan table with Oxford Grey marble top features a base in Metallizzato Carbonio finish, that perfectly joins the finishes of the Glicine chair.
The double sliding Wide door in Canaletto Eco S-Matte finish with steel inserts in Nichel Nero Lucido and paneling in Fili Bronzo Argento glass, an expression of stylistic continuity between the various furnishing elements.
Go and see our kitchens
To see the whole collection Materia by Martini Interiors follow this link.