Built-in ovens – Steel
Elevate your culinary journey with our partner, renowned for its built-in oven high quality level!  Steel produces a wide range of steel cooking appliances with high-end functionalities.
"High-efficiency burners allow precision-cooking over high heat, barbecue griddles for lovers of grilling, cast iron frytops for the perfect preparation of fish and vegetables, heavy stainless steel teppanyaki plates for Japanese-style cooking and induction hobs for those looking for an easy, efficient, and safe way to cook", Steel.
Take a look at our Beth Bespoke Kitchen with built-in oven by Steel.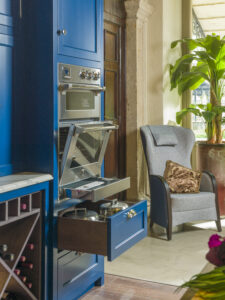 In the Beth kitchen that is presented in our showroom, together with built-in oven, you can also discover the cooking area.
"A look inspired by the professional tradition, and ergonomics as a priority: metal knobs and handles for a perfect grip, the more visible control panel thanks to the 10° angle, the cook-top on the same level as the kitchen counter to avoid any effort in moving pots and pans. Cook-tops for every need, with brass burners and cast-iron grids in the full-gas options, flex-induction for the full-electric ones, a combination of brass burners and electric grill or plate for the hybrid options", Steel.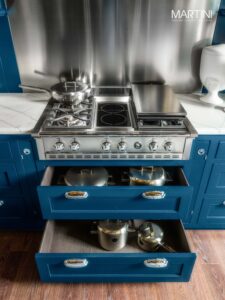 Genesi.
"Genesi originates from the wish to take home the kitchen of the restaurant, recreating its professional performances with a household appliance. Imagine the moments you'll pass around that table, to taste something you'll have prepared. Love, passion: the Italian meaning of sitting at the table. Genesi blends these ingredients up to get the recipe for the ideal kitchen: the one we create day after day", Steel.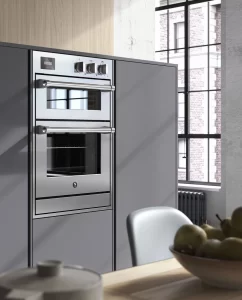 You can have a complete view of steel cooking appliances and all Steel products by visiting the website https://www.steel-cucine.com/it and in our showroom in Verona.